Toronto Maple Leafs      0               @               Detroit Red Wings      1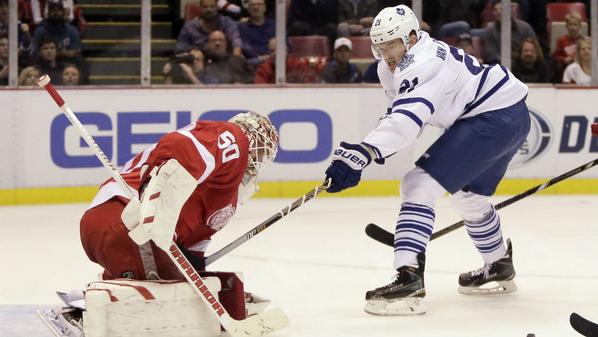 Date: October 18, 2014
Henrik Zetterberg scored with 9.9 seconds left in overtime to give the Detroit Red Wings a 1-0 victory over the Toronto Maple Leafs on Saturday night and a sweep of the teams' home-and-home series.
Detroit's Jonas Gustavson made 30 saves for his sixth career shutout while Jonathan Bernier stopped 31 in his third loss of the season.
The Red Wings won 4-1 a night earlier in Toronto but the Original Six rivals treated a boisterous crowd there were plenty of blue-and-white jerseys in the stands to a much more dramatic show in the rematch.
Both goalies were sharp throughout regulation but Gustavson faced tougher chances, including James Van Riemsdyk's breakaway in the first period and a quick series of shots late in the second.
Notes:
Detroit C Stephen Weiss took Franzen's spot in the lineup Saturday night. He'd been a healthy scratch in the team's first four games.
Toronto RW Brandon Kozun missed the game after suffering a high ankle sprain in Friday's loss. The Maple Leafs did not know the results of his MRI on Saturday.
The Red Wings recalled G Petr Mrazek from AHL Grand Rapids to back up Gustavson.
Quotes:
Bernier after 31-save performance: "I think I just brought my compete level higher and that's what made a big difference."
Bernier on being more aggressive tonight: "I was probably a foot higher [in my crease than in previous two games]"
Bernier on GWG: "It was my mistake. I didn't see [Zetterberg] coming down the other side so I was over challenging on [Kronwall]."
JVR on plenty of Leafs fans in the crowd: "That was probably some of the best support I think we've gotten since I've been here"
JVR: "We played a lot smarter with the puck … more to our system, structure"
Lupul Post Game on playing in Detroit: "It's fun. It's probably better energy than we get back in Toronto. It's nice when we're here or in Buffalo."
Lupul: "With our team, I don't think we can ever get too down when the goals don't come bc there's going to be times when they come fast."
Lupul on Bernier: "You just see that confidence. Sometimes when the other team gets momentum he can be a calming factor back there."
Lupul: "We won more battles. We were a lot more physical tonight. You could notice us throwing the body around & stopping progression."
Carlyle on Bernier: "He made some outstanding saves … saved some guys butts"
Carlyle: "We have to play every game with the desperation with which we played tonight"
Carlyle says decision to scratch Percy was influenced by fact Stuart is dealing with minor injury + he struggled last night.